blog home Bicycle Accident Personal Injury The Difference Car Insurance Makes to Your Bicycle Accident Claims
The Difference Car Insurance Makes to Your Bicycle Accident Claims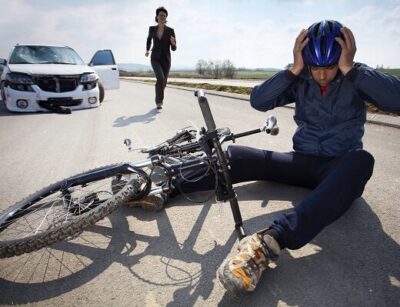 Car insurance companies are increasingly liable for bicycle accidents involving their policyholders. This is because courts have ruled that car insurance companies are responsible for the negligent actions of their policyholders on the road, regardless of whether they cause an accident with a bike or another car.
If you were injured by a negligent driver while you were on your bicycle, do not worry about the driver; their insurance should cover the costs of the accident that you are entitled to. Contact a qualified Glendale bicycle accident lawyer immediately if you have been seriously injured through no fault of your own. The talented lawyers at Aratta Law Firm can be reached at (818) 550-1111 to discuss your case.
Accident Claims
There are many different types of insurance that may come into play after a bicycle accident. If a car caused the accident, the driver's liability insurance is likely responsible for the damages. If the bicycle you were riding was damaged or destroyed, your homeowner's or renter's insurance might cover the loss, but because most bicycles are very cheap compared to motor vehicles, the main concern should be the physical and financial toll that injuries from an accident can cause.
Two types of insurance are usually involved when you are the victim of a bicycle accident: liability insurance and collision insurance. Liability insurance protects the insured from being held responsible for damages caused to others, and collision insurance protects the insured from damages they may incur due to a collision with another object.
Denied Claims
There are several reasons why a claim for your bicycle accident may be denied. For example, the claim may be denied if the accident was caused by the rider's negligence, such as if you were cycling illegally. The claim could also be rejected if the rider was speeding or riding recklessly during the accident. In some cases, the insurance company may simply refuse to pay out on the claim, citing a lack of evidence or insufficient coverage.
If you have been involved in a bike accident and your claim has been denied, it is vital to seek legal advice as soon as possible to ensure you have the best chance of success. Don't give up if you've been in a bike accident and your insurance company denies your claim. You may be able to appeal the decision and get the compensation you deserve.
Bad Faith
Bad faith in insurance refers to the insurer's failure to uphold its end of the insurance contract, whether that be by refusing to pay out on a valid claim, delaying payment of a claim, or offering a settlement amount much lower than the victim deserves. Bad faith practices can be frustrating and financially devastating for accident victims.
Hire a Lawyer
If you were involved in a bicycle accident, you may be able to maximize your insurance claim by hiring a qualified Glendale bike accident lawyer. Your lawyer can negotiate with the negligent driver's insurance company and ensure you receive the full compensation you're entitled to. In addition, your lawyer can help you gather the necessary evidence to support your claim and ensure your rights are protected. Call (818) 550-1111 to speak with the talented lawyers at Aratta Law Firm and discuss your case as soon as possible.