blog home Auto Accident Parking Garage Dangers and Safety Tips
Parking Garage Dangers and Safety Tips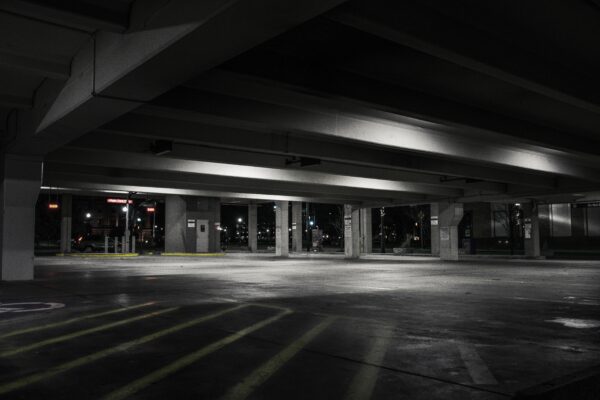 Parking garages may be more dangerous than you think. Tens of thousands of crashes, causing hundreds of deaths and thousands of injuries, occur every year in parking lots and garages, as stated by the National Safety Council (NSC). If you have been injured in a parking garage accident, it is important to understand your legal options. You may be entitled to recover compensation for your injuries.
What Are Some Common Causes of Parking Garage Accidents?
Contributing factors to parking garage accidents include hazardous conditions existing on the property, driver error, and mechanical failure. Common causes include:
Poor lighting: Inadequate lighting in parking lots can lead to accidents. It creates blind spots and makes it more difficult for motorists to see what is front of them. Drivers steering around dark corners are more likely to hit pedestrians or collide with other vehicles. Also, crimes such as burglary, robbery, and assault, are more likely to occur in dark parking garages than in well-lit areas.
Slippery or uneven surfaces: Individuals who are walking through parking garages can slip or trip and fall on slippery or uneven surfaces. Painted surfaces, broken concrete, exposed rebar, pooled liquids, and poor lighting can all contribute to parking garage falls.
Limited visibility: Configuration of a parking garage can make it difficult for drivers reversing their vehicles to see approaching cars. Mirrors, cameras, and sensors may not be enough to prevent a crash.
Malfunctioning equipment: When essential equipment, such as the brakes or steering system, fails on a vehicle, it can cause a traffic crash anywhere, including in a parking garage.
Speeding: Drivers may be in a hurry to park or to exit a parking garage. When they fail to slow down to avoid vehicles pulling in and out of spots and pedestrians walking to and from their vehicles, serious collisions can occur.
Distracted driving: NSC reports that driver distraction is a major contributing factor to parking lot accidents. Nationwide, 66% of drivers said they make phone calls while driving through parking lots in NSC's Distracted Driving Public Opinion Poll.
What Types of Injuries Do Parking Garage Accidents Cause?
Although some parking lot crashes are "fender benders," many others cause serious or fatal injuries. Depending on the type of accident, motorists and pedestrians may suffer a wide range of injuries, including:
Whiplash
Back and neck injuries
Dislocations
Lacerations and contusions
How Can You Stay Safe in Parking Garages?
Following these tips can help keep you safe in parking garages:
Drive slowly and use your turn signals.
Obey stop signs and no parking signs.
Stay in lanes – avoid cutting across the lot.
Watch out for small children and parents pushing strollers.
Try to anticipate the actions of other drivers.
Look carefully for pedestrians or vehicles when backing out.
Who May Be Liable for Parking Garage Accidents?
Liability for a parking garage accident can depend on how the accident occurred and what caused it. Our Glendale car accident lawyer can investigate your accident to determine fault and liability and handle your claim for compensation. Potentially liable parties may include:
Motor vehicle drivers when driving in a negligent manner, such as speeding, failure to yield the right of way, or failing to look before backing out of a parking spot caused the accident.
Property owners if a dangerous condition on the premises caused the accident and injuries.
After a serious Glendale parking garage accident caused by someone else's negligence, our experienced legal team at Aratta Law Firm is committed to getting you the compensation you deserve. Contact us at (818) 550-1111 to find out how we can help.