blog home Auto Accident What if an Emergency Vehicle Caused My Accident?
What if an Emergency Vehicle Caused My Accident?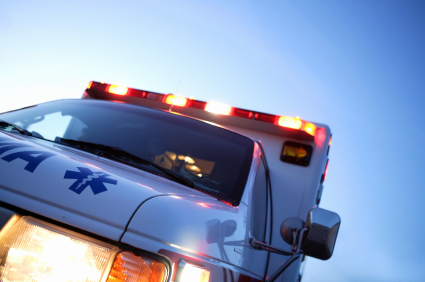 Emergency vehicles are subject to different traffic rules than other vehicles in California. In life-threatening situations, their drivers are permitted to exceed the speed limit, run red lights, and violate traffic laws as necessary, provided they drive with due regard for the safety of other motorists. When they fail to do so, they may be held liable for resulting injuries.
What Types of Emergency Vehicles Are on the Road?
Under California law, drivers must yield the right-of-way to approaching emergency vehicles with their flashing red lights and/or sirens on. Drivers of these vehicles may also use loudspeakers to talk to drivers of vehicles blocking their paths. According to the DMV, emergency vehicles drivers must yield to on the road include:
Police vehicles
Fire engines
Ambulances
Other emergency vehicles with red lights and sirens
What Steps Should Drivers Take When Encountering Emergency Vehicles?
If an emergency vehicle is approaching on the road with its lights and/or sirens on:
Drive to the right edge of the road and stop until the emergency vehicle has passed.
Never stop in an intersection – continue through the intersection, pull to the right as soon as you can safely do so, and stop.
Obey any traffic direction, signal, or order given by a peace officer, traffic officer, or firefighter, even if that order conflicts with existing traffic laws or signals.
It is illegal to follow within 300 feet behind an emergency vehicle with its siren or flashing lights on.
Do not drive to the scene of a collision, fire, or other disaster for sightseeing. You could be arrested for interfering with essential services of emergency or rescue personnel.
Under California's "Move Over Law," motorists on a freeway approaching a stationary emergency vehicle displaying flashing emergency lights must change lanes into a lane not immediately adjacent to the emergency vehicle. If it would be unsafe to change lanes, motorists must slow to a reasonable and prudent speed.
What Should Emergency Vehicle Drivers Do While Navigating Intersections?
Emergency vehicle drivers responding to emergency calls must sound sirens and display red lights as necessary to warn others on the road. However, use of lights and sirens does not relieve them of their duty to drive with due regard for the safety of others on the roadways. They must drive in a manner that does not create a risk of harm for others. In navigating intersections, emergency vehicle drivers should:
Come to a complete stop if all visible traffic in all lanes cannot be accounted for
Not rely on lights and sirens to clear traffic
Scan the intersection for possible hazards
Slow down well before reaching the intersection
Change the siren cadence no less than 200 feet from an intersection
Scan the intersection for possible passing options, avoiding the opposite lane of traffic if possible
Is the Claims Process Different When a Government Emergency Vehicle Is Involved?
The claims process is different for accidents involving emergency vehicles. Police, ambulance, and other emergency vehicle drivers may violate certain rules of the road while responding to emergencies, and may not be held liable for doing so, provided their red lights and sirens are activated as necessary to alert others. However, they may be held liable for failure to exercise due regard for the safety of others under the circumstances.
Your claim may be against a public entity, such as a city or town government. Different rules and deadlines apply in claims against municipal agencies and other government entities. Your best chance of recovering full compensation is to have an experienced Glendale auto accident lawyer handling your case. Contact Aratta Law Firm at (818) 550-1111 to find out how we can help.